£2 million facelift plan for Derry's 'ugliest building'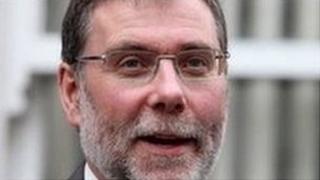 Almost two million pounds has been earmarked to give the Ulster Bank in Londonderry's Waterloo Place a facelift.
The announcement was made by the Social Development Minister Nelson McCausland on Thursday morning.
Mr McCausland was in Derry to monitor progress on a number of DSD-funded projects.
He said he was aware that with the 2013 UK City of Culture celebrations just months away changes needed to be made
"It's a building that I understand attracts some comment. We need to get it looking as good as possible for next year.
"There is a £1.9m scheme going ahead there and through an Urban Development grant we are putting almost £0.5m into that.
"When you look right across all the projects it is quite a substantial investment.
"It's one thing getting a briefing paper on them with the facts and figures, but it's so much better to come and actually see on the ground and understand what's happening in the city."