GCSE results: What to do next?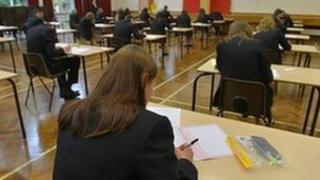 Not all pupils who have opened their GCSE envelopes will be content with their results.
If you have not quite received the grades you were hoping for, or even if you performed better than you expected, there are a number of options for you to choose from.
Mary McDermott, a careers adviser with the Department for Employment and Learning in Northern Ireland, has recommendations for anyone with questions or seeking advice on what to do next.
"If you don't get the results you've been hoping for, get in touch with your careers office and sit down and talk with a careers advisor and they can help you decide what the best route for you is," she said.
She explained that a careers advisor would not only look at ability but would also explore a student's interests and personality.
Ms McDermott explained there were other options available if students did not wish to continue on with A-levels.
"A-levels are an academic route into university and if that's not something that interests you or fits in with your personality then you need to be looking at what you want to do," she said.
"You can do a BTec level three which will give you an A-level equivalent, so if university is in your long-term sights, that's still a route into it.
In Northern Ireland, there is also Training for Success. It is the department's training programme where young people get £40 and they train in vocational areas."
The advisor also said A-levels could be combined with a BTec qualification for a foundation degree.