Brian Shivers ill-health leads to additional charges withdrawal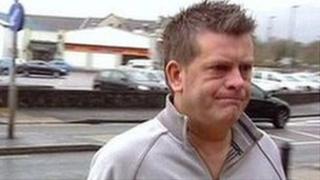 Additional charges against the man convicted of the murder of two soldiers at Massereene Army Barracks, are being withdrawn, pending a medical report.
Brian Shivers, 47, of Sperrin Walk, Magherafelt, is serving a life sentence in Maghaberry Prison.
He was convicted of the murders of Mark Quinsey, 23, and Patrick Azimkar, 21, who were shot dead in 2009.
He had also been charged with a number of offences, including assaulting a police officer and resisting arrest.
Shivers was due to contest these charges which allegedly occurred when police called at his home in March 2011 to carry out a bail check.
However, he was unable to appear for a routine video-link at Magherafelt Magistrates Court as he was deemed "unfit due to illness".
A prosecution lawyer told the court a decision had been taken to withdraw the charges pending a medical report being obtained by Shivers's defence team.
District Judge Desmond Perry ordered the medical report to be submitted by 30 September when the charges will be formally withdrawn.