Staff hospitalised after chemical spill in Omagh school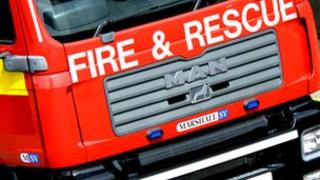 Six members of staff were taken to hospital following a chemical spillage at a County Tyrone school.
Fire crews wearing protective equipment attended the incident in a science room at Drumragh Integrated College in Omagh on Thursday afternoon.
They contained the small leakage in a fume cupboard at around 13:00 BST.
Two men and four women, mostly science staff members, were taken to hospital for observation and were later released .
School principal Nigel Frith said the school would now engage a professional company to clean up the spillage.