Relatives of deceased interrupt Antrim road death court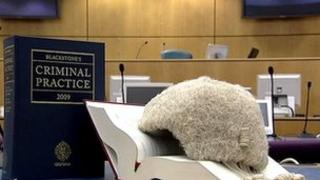 A student teacher has been given a suspended sentence for causing the death of a motorcyclist by careless driving.
The judge suspended 21-year-old Christina McVeigh's six-month jail term for two years and banned her from driving for three years.
There was a disturbance in Antrim Crown Court as the sentence was read.
Sisters of motorcyclist Francis James Donaldson shouted that McVeigh was a "murderer", and "you killed my brother".
Judge Corinne Philpott told the women that such an outburst "will not bring Mr Donaldson back", and that "no sentence that this court can give will do that".
Prosecutor Neil Connor said McVeigh was driving her brother to work and had just left their Carey Mill home on the outskirts of Ballycastle in the late afternoon of 30 May 2010.
The "tragic accident" occurred as the student teacher, then aged 19, drove out on to the main Cushendall to Ballycastle Road.
He said initially McVeigh was charged with dangerous driving, but her plea to the lesser charge of causing death by careless driving was accepted following a review of the case and consultation with Mr Donaldson's family.
It would appear, said Mr Connor, that while McVeigh's view may have been partly obscured by a sign and an overgrown grass verge, the onus was still on her to ensure the road was clear before she fully emerged from the junction.
"The prosecution would accept in this tragic incident, that there are no aggravating factors. We would accept it is a case of a lapse of momentary attention and therefore falls in the lower end of the spectrum," said the lawyer.
In passing judgement Judge Philpott said:
"This was a momentary lapse. You did not drive in a dangerous way and in my view the prosecution were right to accept your plea to the lesser charge."
Earlier, defence QC Richard Weir said the court was dealing with an inexperienced driver, not a reckless dangerous driver, and that it almost went without saying that "if she could change those instants, moments before this tragedy, she would".