More parents than ever in NI choose to give children MMR jab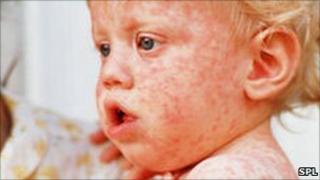 The number of parents in Northern Ireland choosing to give their children the MMR vaccination has risen to an all-time high.
More than 95% of children aged two and under are now getting the injection which protects against measles, mumps and rubella.
It is recommended that all children should have two doses of MMR vaccine by age four to ensure they are protected.
Stormont Health Minister Edwin Poots described the figures as "encouraging".
Northern Ireland's figures are higher that the World Health Organisation's recommended targets, and are marginally higher than those in England, Scotland and Wales.
"Measles, mumps and rubella are highly infections conditions which can be life threatening, and the MMR vaccine is the safest and most effective way to ensure protection," he said.
"These most recent figures are very encouraging and parents are to be congratulated for taking this very positive step to ensure their children are protected.
"I would also like to congratulate our health professionals for this very significant achievement.
"Our GPs, health visitors and treatment room and practice nurses have played a vital role in informing parents about the importance of getting their child vaccinated and in delivering the vaccination programme."
Mr Poots said he believed people had been reassured by the vaccine's effectiveness and emphasized there was no evidential link between it and autism.
"People need to be very responsible about these things and not to get caught up in scare stories but instead take a reasoned and logical consideration of it and do what's best for their child," he added.
Northern Ireland's Chief Medical Officer Dr Michael McBride said: "The seriousness of measles, mumps and rubella should not be underestimated.
"Each condition can bring serious complications including meningitis, swelling of the brain and deafness. They can also lead to complications in pregnancy that affect the unborn baby and can lead to miscarriage.
"These new figures are excellent but there is still some room for improvement.
"We only have to look at recent outbreaks in Northern Ireland and across the UK to see that the very real danger of children not receiving MMR vaccine.
"I would therefore urge all parents to ensure their children are protected."