Newlywed 'threw herself from a van to escape beating'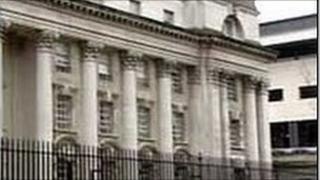 A newlywed woman allegedly threw herself from a van in a bid to escape a beating by her husband, Belfast High Court was told.
Martin McDonagh, 22, of Comber Road, Omagh, Co Tyrone, denies charges of assault occasioning actual bodily harm, false imprisonment and kidnapping.
The incident is said to have happened on 28 July 2012, 10 days after the couple's wedding.
Mr McDonagh began hitting his wife in their van after an argument, it was alleged.
A prosecuting lawyer said the victim "said she didn't want to take any more so effectively threw herself out of the van to escape."
The court heard how the woman said she did not want to give a statement after being spoken to by fellow members of the travelling community.
Lord Justice Coghlin ruled that bail should be granted due to the lack of a formal statement to police.
Mr McDonagh was banned from entering County Londonderry, or having any contact with his wife.