Boy picks up WW2 bomb on County Londonderry beach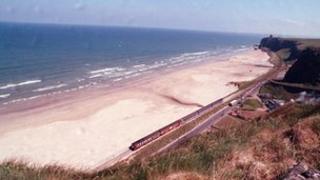 A young boy has escaped injury after lifting up a live World War II mortar shell from a beach in County Londonderry.
The child found the bomb while he was walking on the shoreline around Magilligan on Saturday afternoon.
Army bomb experts were called to the scene and they disposed of the shell.
The Police Service of Northern Ireland (PSNI) said they believed the boy was "fortunate not to have been badly injured".
They said a number of World War II shells have been found in the surrounding area in recent months and they warned the public to treat items they find on the coastline with caution.
"Police would remind people if they find anything unusual they should not touch it but contact police immediately," a PSNI spokesperson said.