Man is charged with rape of schoolgirl in Derry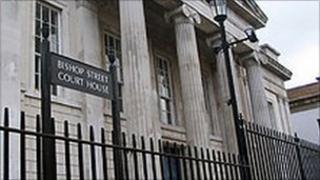 A man has appeared in court charged with raping a schoolgirl in the grounds of Foyle College in Londonderry last year.
Adam Titheridge, 20, from Willow Walk in London, is charged with causing the girl grievous bodily harm and carrying out an aggravated assault on her.
He is alleged to have committed the offences on 8 July last year.
There was no bail application and the defendant was remanded in custody until 6 September.
Previously, the defendant had been released on high court bail on the charges.
He then failed to turn up for his preliminary inquiry on 20 April.
The court heard that the defendant came to the attention of the Metropolitan police in London last Thursday.
After a background check was carried out, the Police Service of Northern Ireland was informed.
A detective told the court that he travelled to London at the weekend where he executed an arrest warrant at Gatwick Airport before bringing the defendant to Northern Ireland.