Newry remembers boating tragedies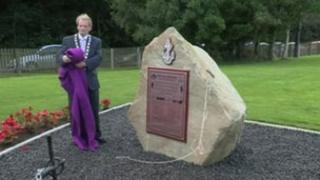 About 200 people gathered at the edge of Carlingford Lough at the weekend for a memorial service for 18 seamen who perished in two separate boating tragedies during World War II.
On 5 December 1940, the SS Privet, with a crew of nine, left Birkenhead with a cargo of coal bound for Belfast.
It disappeared without trace in bad weather.
Ten months later on 27 October 1941, the SS Walnut, also with a crew of nine, left Birkenhead with a cargo of coal bound for Newry.
It too disappeared without trace. There were no survivors. Both boats belonged to the Fisher shipping company in Newry.
James McArevey of the Newry Maritime Association organised the memorial service. He agrees the two tragedies had been largely forgotten.
"Remember that we were in the early years of World War II and there was so much going on that even though there were 18 men involved, they just got airbrushed," he said.
"But today we hope to bring closure to the 18 families with the memorial service and the unveiling of the plaque."
David Burns, who was 34, perished on the SS Privet.
New Zealand
His son Leslie, now 76, was four years old when his grandfather came to tell his mother the bad news.
"When he said that there was no word from the crew or the ship, my mother burst into tears and I can remember her tears actually falling onto the kitchen floor," he said.
Leslie's brother David travelled 12,000 miles from New Zealand to take part in the ceremony.
"This is important," he said.
"That is why I am here.
"This is something for the people of Newry and the descendants of the two crews.
"They can come and have a moment of quiet reflection here."
The youngest of the crewmen was 18-year-old Oswald Hughes from Wales.
His sister Marlu said it was months before his family found out he was dead.
"My father was in the Navy and knew my brother was also at sea somewhere but he didn't know he was on the SS Walnut," she said.
Jane Kane Ketch lost her father William Clawson on the SS Privet.
She had travelled from the US for the service.
"This means a lot," she said.
"It really brings my father back.
"It means that he is no longer just something in the past. He is still here with us today."
Eleven of the crewmen who perished in the two tragedies came from the Newry area.
The others came from Carrickfergus, Annalong, Carlingford, Dublin, Waterford and Aberystwyth.
The granite stone memorial plaque stands next to the Victoria Lock gates on the road between Newry and Omeath.