Poor Clare Sisters leave north Belfast monastery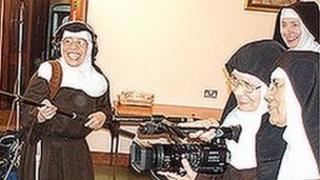 An order of nuns have left their monastery in north Belfast after almost 90 years.
The Poor Clare Sisters were based on Cliftonville Road, but numbers declined to just five nuns - two Irish sisters in their 80s and three Filipinas.
A seminary currently in St Malachy's College will be relocated there.
Bishop of Down and Connor Noel Treanor said the Sisters, who will transfer to monasteries in the Philippines and the Irish Republic, will be "sadly missed".
"The Sisters leave behind an invaluable legacy of prayerful support and a sense of the closeness of God, especially in turbulent times," he said.
"From within the enclosure of their monastery, they have constantly reached out in support of those who came to visit them.
"The Sisters have modelled a spiritual joy and sense of peace which are the fruits of a life of contemplative dedication."
The nuns observed a strict daily routine that has remained relatively unchanged since the 1200s.
Dedicating their life to prayer, each Sister takes vows of poverty, chastity, obedience and enclosure.
For six days a week, members of the public could come to the monastery and talk to the Sisters through a metal grill about their problems as well as requesting prayers.