No plan to remove Billy Hunter tributes at Belfast Asda store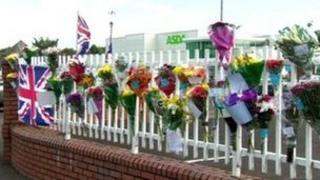 Asda has said it has no plans to remove tributes to a double killer outside one of its supermarkets in north Belfast.
Dozens of tributes have been left outside an Asda store on the Shore Road to 55-year-old Billy Hunter.
The loyalist was convicted for his part in the murders of Catholic brothers John and Thomas McErlane in 1975.
His body was found on the Ballywalter Road in County Down on Friday. Police have said they are not treating his death as suspicious.
A makeshift shrine has been growing outside the Asda store where he previously worked.
On Monday, Gerard McErlane, whose two brothers were murdered by Hunter, told the Irish News newspaper he would like to see the tributes removed.
However, a spokesperson for Asda said: "We respect there are strong feelings from various groups within the local community on this matter.
"The tributes being left at our Shore Road store have been led by the local community and we are letting the community manage these."
The McErlane brothers were work colleagues of Mr Hunter when he lured them to a flat in the Mount Vernon estate to play poker.
They were then shot dead.
In 2010 Hunter was sacked by Asda for commenting about a loyalist song at work but was reinstated after local protests.