CultureTECH digital conference begins in Londonderry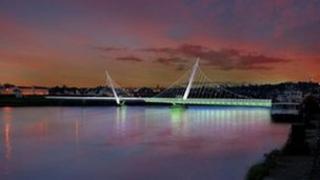 A four-day digital technology and media conference gets under way at various venues in Londonderry on Wednesday.
CultureTECH has workshops, seminars and speakers from the worlds of film, TV, animation, music, gaming, publishing, advertising and digital arts.
Thirty start-up companies from Northern Ireland will be showcasing their work at the event, organised by Digital Derry and backed by Invest NI.
It also features film screenings and more than 50 music performances.
Festival organiser Mark Nagurski said the event aims to show people "what goes on behind the curtains".
"It is about creating an event that showcases these companies in the creative industry space and giving them a platform so that they can show off what they do to the world," he said.
"It also brings people here from other parts of the world who are doing fantastic stuff so that people can share that information."