Body scanner trial begins at Northern Ireland prison in September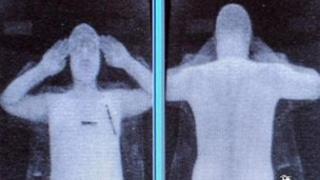 Body scanning trials will begin at Magilligan Prison in County Londonderry next month, the Northern Ireland Prison Service (NIPS) has confirmed.
The trial will involve the use of millimetre wave scanning equipment to combat the smuggling of banned items.
The scanners, which could provide an alternative to full-body searching, will also be tested at Hydebank Wood Young Offenders Centre from October.
Dissident republican prisoners have protested against full-body searches.
'Non-intrusive'
More than 20 inmates at Maghaberry Prison in County Antrim have been involved in the dirty protest, smearing excrement on walls and floors of their cells.
Last year, a review of NIPS, led by Dame Anne Owers, recommended that the service try to find "an effective and less intrusive method than full body-searching".
Millimetre wave scanning does not use X-rays.
The Department of Justice (DOJ) said the technology is "similar to that which is currently in use at airports and train stations throughout UK, Europe and USA".
It described it as "a non-intrusive body searching process using non-ionising radio waves from which there are no known health risks".
On Wednesday, Justice Minister David Ford welcomed the body scanner trial as "another significant step forward within the prison reform agenda".
'Safeguards'
The minister said his department had been actively working on an alternative to full body searching, which he described as "not ideal, whether for prison officers or prisoners".
"Unfortunately, a number of practical and logistical matters have taken longer to resolve than was originally anticipated," Mr Ford said.
He added: It is important to recognise that progress cannot be made at the expense of prison security and the pilots will test whether the technology can offer the same, or even enhanced, safeguards as those provided through the current procedure of full body searching.
NIPS Director General, Sue McAllister, said: "In line with recommendation eight of Dame Anne Owers' report the Prison Service has been exploring a range of technological options as a possible alternative to full body searching.
She added: "A pilot scheme at Magilligan Prison will commence following the installation of equipment and staff training which are planned for late September.
"A second pilot scheme at Hydebank Wood will commence in mid October."