Belfast marks Paralympic Games opening ceremony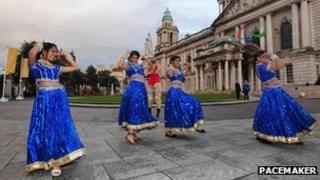 People have gathered at Belfast City Hall to celebrate the opening of the Paralympic Games in London.
The opening ceremony, which began at 20:30 BST, is being shown live on a big screen in the grounds of the building.
Ahead of the ceremony, entertainment was provided by dancers, stilt walkers, jugglers and music.
The Lord Mayor of Belfast, Gavin Robinson, said the council was encouraging people to come and show their support for Paralympians.
"City Hall has proved to be a great focal point for the Olympics Games and the Paralympic Flame ceremony," he said.
"We think it will be not only a great night, but over the course of the next two weeks, we hope people will come down and support the Paralympians as they compete.
"The big screen will be showing all their action up until 22:00 BST each evening," he added.
Around 2,500 people attended a celebration in the grounds of the City Hall on Saturday night, to mark the Northern Ireland leg of the Paralympic torch relay.
The event culminated in a free concert and fireworks display.
Eight athletes from Northern Ireland are taking part in the 2012 Games which are being held in Stoke Mandeville.
The Buckinghamshire village is known as the birthplace of the Paralympics - it hosted the first Games in 1948.
Two local athletes will be competing for Team GB and six will be competing for Team Ireland.