Suspects wanted over dog set on fire in Maghaberry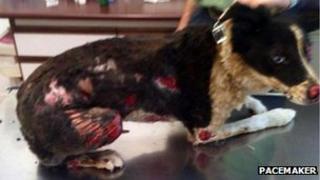 Police investigating an attack on a dog in Maghaberry have issued descriptions of two people they want to question.
The three-year-old collie suffered serious injuries after it was doused with flammable liquid and set alight on Maghaberry Road on Sunday.
A police spokeswoman said two males were seen with the dog at 10:00 BST.
One is described as having dark hair and a faint moustache. He was carrying a bottle of Buckfast and is said to have had an aggressive demeanour.
Both are said to be of thin build with broad shoulders and between 5ft 8in and 5ft 10in tall.
The second person is thought to have been carrying a white plastic bag.
Police believe they may have been at a house party in Maghaberry the night before, and have appealed for anyone who may recognise the descriptions to contact them.