Windsor Park redevelopment - Supporters' clubs view plans in person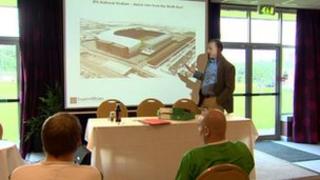 Northern Ireland football supporters clubs have been given a first hand account of the £25m plans to transform Windsor Park stadium in Belfast.
The Irish Football Association (IFA) plans to increase the stadium's capacity to 18,000, but is consulting the public before submitting the plan.
The clubs' representatives met in south Belfast on Wednesday evening to view the plans in person.
A formal planning application is due to be submitted at the end of this year.
Speaking at Monday night's meeting, Gary McAllister from the Amalgamation of Northern Ireland Supporters Clubs, said they had been involved for most of the re-development process.
He said: "We've made representations to the IFA and the architects and we've tried to reflect what the fans would like to see from this stadium within the budget available.
"If they can deliver the designs they've shown us I think the fans will be pretty happy."
The £25.2m funding package for the new IFA National Stadium has been provided by the Department of Culture, Arts and Leisure. (DCAL).
Work is due to begin in August 2013 and it is hoped the transformation will be completed before the end of 2015.