Target Express workers to meet liquidator in Irish Republic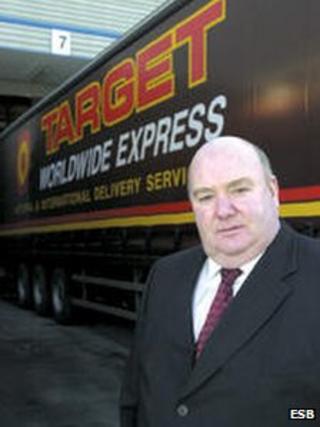 A meeting between former workers at Target Express and representatives of the provisional liquidator appointed to the company in the Irish Republic is due to take place later.
Target Express workers are staging sit-ins at the company's Cork and Carlow depots.
The haulage company ceased operating on Monday.
Target Express is being liquidated in the Irish Republic and being put into administration in Northern Ireland.
Former workers, who are staging sit-ins at the company's depots in Cork and Carlow, have pledged to continue their protest until they are paid what they are owed.
The provisional joint liquidators in the Irish Republic are Stephen Tennant and Michael McAteer of Grant Thornton.
A provisional liquidator is appointed in situations where it is deemed necessary by the High Court to immediately safeguard the assets of the company for the creditors or if there is a risk of the assets being dissipated.
Target Express is one of the largest privately owned haulage companies on the island of Ireland.
Earlier this week it emerged that up to 150 jobs in the UK - most in Northern Ireland - and 300 in the Irish Republic, will be affected by the firm's collapse.
Target Express has an extensive network of UK depots including bases at Newry, Londonderry, Lisnaskea, Nutts Corner and Cookstown in Northern Ireland.
In England there are bases in London, Birmingham and Manchester.
Its founder and director, Fermanagh businessman Seamus McBrien has claimed that the actions of the tax authorities in the Irish Republic forced the collapse of the company.
In a statement, the workers said it was not their view that Target Express was closed down by Revenue.
They said they had questions about the financial state of the company and were anxious to be paid outstanding wages.
A spokesperson for the Revenue Commissioners in the Republic of Ireland said it did not comment on the tax affairs of any particular business or individual.
It is understood they placed attachments on the company's bank accounts last Friday.
Despite ongoing negotiations, the issues could not be resolved.