Notre Dame and Navy in Dublin US College Football clash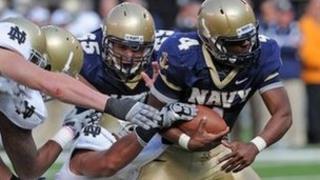 Up to 35,000 Americans are en route to Ireland for the one of the first games of the American College Football season.
Notre Dame, known as the 'Fighting Irish', will play the US Naval Academy in Dublin's Aviva Stadium on Saturday afternoon.
The 'Emerald Isle Classic' marks only the second time the two teams have met outside the United States.
In 1996 the two colleges played their fixture in Dublin's Croke Park where Notre Dame emerged a victorious 54-27.
This weekend's event is expected to rank alongside the Ryder Cup and the Special Olympics in terms of the numbers of tourists it will attract to Ireland.
And the sold-out match is expected to generate some 100m euros for the Irish economy according to the Republic's Minister for Transport, Tourism & Sport Leo Varadkar.
"I'm delighted to welcome the Emerald Isle Classic to Dublin. With 35,000 American football fans making the trip to Ireland, this week is set to provide a huge economic boost to the country."
An additional 36 transatlantic flights have been added to the schedule at Dublin Airport for the largest ever contingent of travelling fans for a stand-alone sporting event outside the United States.
"Hotels are reporting a significant boost in sales for this weekend with other businesses in the hospitality sector expecting a boost this weekend," Dublin Chamber CEO Gina Quin said.
"Dublin's hospitality sector relies on major events, from international sports events to festivals. It's also going to be an excellent opportunity to show off what Ireland has to offer tourist and businesses alike."
Fort McHenry
The event is being presented by 'The Gathering Ireland 2013', an Irish government initiative to attract tourists to Ireland in 2013.
Other events have been planned around the fixture.
The US Navy dock landing ship USS Fort McHenry will be docked at Dublin Port and will be offering public tours on Saturday and Sunday through a lottery run by the US embassy in Dublin.
The Navy pep-rally, which will include traditional band and cheerleader performances, will be held in Dublin's St Stephen's Green at 17:30 BST on Friday.
On Saturday morning, up to 5,000 Notre Dame supporters are expected to attend an open-air Mass in the courtyard of Dublin Castle.