Vivenne McCord in legal challenge to PSNI's rehiring policy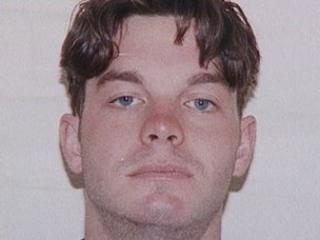 The mother of a loyalist who was killed by the Ulster Volunteer Force (UVF) is taking legal action in a bid to stop the PSNI rehiring retired RUC officers.
Vivienne McCord's son, Raymond McCord jnr, was murdered in 1997 by UVF gang led by a Special Branch informer.
She said she is concerned some retired officers who have been rehired may have a vested interest in hindering the investigation into her son's murder.
The PSNI has repeatedly said its rehiring policy complies with the law.
The policy of rehiring retired RUC officers who left with generous Patten redundancy payments is the subject of an ongoing investigation by the government's spending watchdog, the Audit Office.
It has also been the subject of much debate at the Northern Ireland Policing Board since the BBC revealed details late last year.
'Collusion'
Lawyers acting for Mrs McCord have said the recruitment of former RUC officers as temporary agency staff is unlawful.
She has been granted legal aid for a judicial review of the legality of the recruitment policy.
No-one has been convicted for the murder of her 22-year-old son, whose body was found dumped in a quarry 15 years ago. He had been beaten to death.
Five years ago, the then Police Ombudsman Nuala O'Loan published a devastating report which said the gang that killed him contained a number of paid Special Branch agents and had been responsible for up to 16 murders.
The report said there had been collusion, with some police officers protecting their agents and making sure they were not caught.
Mrs McCord is taking the action in a bid to stop former RUC officers from becoming involved in the investigation into her son's murder, and other allegations of police misconduct.
"I don't believe they should be involved in any kind of investigations," she told the BBC.
"Nuala O'Loan said they was collusion in Raymond's murder and I don't want any more collusion. It is not right that former officers should be rehired in this way because my family and other families can't trust some of them."
Her solicitor, Padraig O Muirigh, has written to the PSNI setting out her concerns.
The letter says there has been "substantial public disquiet" at the involvement of former members of the RUC employed as agency staff.
'Mislead'
It also says some of these retired officers have been contracted to perform "significant police investigatory work" for the Historical Enquiries Team (HET) and a special unit that provides information for coroners' inquests.
"The applicant is very concerned that former Special Branch officers who are now being recruited as agency staff within the PSNI may be in a position to mislead or hamper any future investigation into the death of young Raymond McCord," he said.
"There is a very serious allegation that state agents with the full knowledge of police handlers were involved in the murder of Raymond McCord and I find it an absurd position that you could have could have some of these officers involved in the forthcoming inquest and future investigation of this matter."
A senior barrister who has examined the relevant legislation has said he believes Chief Constable Matt Baggott and the Northern Ireland Policing Board are acting illegally by recruiting former officers to roles not specified in any legislation.
In a legal opinion seen by the BBC, he said: "It seems to us that the decision of the Chief Constable/Northern Ireland Policing Board to continue with this policy of contracting out is unlawful. Both parties are acting outside the scope of their statutory powers by contracting in such services ......I would ask that you give this matter your urgent attention."
'Rejected'
The solicitor's letter to the PSNI states that Mrs McCord "seeks confirmation that these agency workers shall now be replaced by properly appointed police officers to perform the policing duties as intended by Patten and by the legislature".
The PSNI has repeatedly said it is acting within UK and European employment law.
In response to Mr O Muirigh, the PSNI has rejected the contention "that it has acted unlawfully or in any way that could be seen as being ultra vires to the statutory powers vested in the chief constable or the Northern Ireland Policing Board."
In a letter, the police acknowledge that some former RUC officers are engaged in HET teams and assist with legacy inquests, but insists they are not employed in an investigatory capacity.
Papers seeking leave for a judicial review of the recruitment policy are expected to be lodged in the High Court in Belfast on Friday.