Sean Quinn's family 'cannot afford to pay lawyers'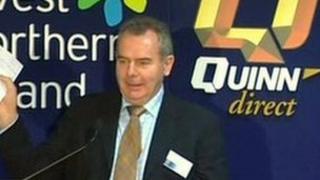 Bankrupt billionaire Sean Quinn and his family have let go of their legal team because they say they cannot afford to pay them.
In July, a Dublin judge found Mr Quinn, his son Sean Jr and nephew Peter Darragh, to be in contempt of court.
They hid millions in assets from the former Anglo Irish Bank.
In a statement, the Quinn family said they had been forced to instruct major law firm Eversheds and counsel to withdraw from representing them.
They blamed "the financial position we have been placed in as a result of Anglo's hostile takeover of our companies, and recent court orders obtained by the bank".
Property assets
The former Anglo Irish Bank was bailed out by Irish taxpayers and is now controlled by the Irish Banking Resolution Company (IBRC).
The IBRC claims the Quinns owe it about £2bn and is trying to recover the money from their property assets on behalf of Irish taxpayers.
Sean Quinn jnr and Peter Darragh Quinn were both jailed for contempt of court.
While Sean Quinn jnr is serving a three-month sentence, an arrest warrant was issued in the Irish Republic for his cousin who failed to turn up in court and was subsequently spotted in Northern Ireland.
The Quinn family said in its statement, issued on Friday, that all their attempts "to avoid this litigation dispute and... reach an amicable resolution with the new management of Anglo" had been turned down.
"This disastrous scenario for each of us has been strategically orchestrated by Anglo, who have done everything in their power to ensure that our challenge over the illegal loans advanced to our companies is never heard before the Irish courts.
"We are infuriated that Anglo, who unlawfully seized control of our companies on the basis of these illegal loans, continue to stand over them along with the bank's past management practices, notwithstanding that criminal charges have now been brought against Anglo's former executives."