Raymond Wootton pleads not guilty to gun charges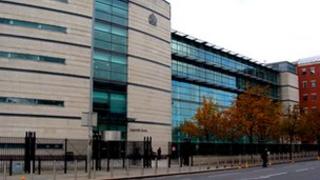 A 42-year-old man form north Belfast has appeared in court charged with possessing a handgun and ammunition with intent to endanger life.
Raymond Wootton, from Alliance Avenue, pleaded not guilty to having a pistol and two rounds of ammunition on dates between May 2009 and January 2011.
A defence lawyer said he would be seeking expert DNA reports before any future trial, which could begin in December.
Mr Wootton was released on bail.
An earlier court hearing was told the gun had been used in an attempted murder bid on the Deerpark Road on April 9 2009 and a punishment-style shooting on May 11 2009.
Both attacks were carried out by the dissident republican group Oglaigh na hEireann.
The pistol and ammunition were found by police officers on January 10 last year, during searches at a car body workshop on Hannahstown Road in west Belfast.
The items were discovered inside a sock, wrapped in black insulation tape, on the first floor of the premises.
The court was also told that Mr Wooton's DNA profile was allegedly found on the handgun and the tape wrapping it.
Belfast Crown Court judge, Tom Burgess, released Mr Wootton on continuing bail and said the case would be reviewed later in September.