Finbar Kelly and Joseph McNally in court over fake gun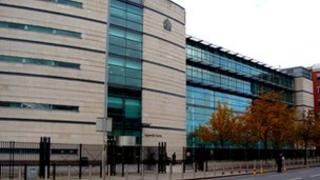 Two Belfast men have appeared in court charged with having an imitation gun.
Finbar Kelly, from the Antrim Road, and Joseph John McNally, from Oisin House in the New Lodge, deny the charges.
They were arrested when police stopped a car on Thursday and discovered a pellet gun under the passenger seat.
The court heard that during a follow-up search of Mr Kelly's home, PSNI officers found a document which allegedly referred to an organisation's intent to attack drug dealers.
A PSNI detective constable told Belfast Magistrates Court that police were objecting to bail on the grounds of the discovery.
"This document would threaten to do harm to as yet unknown individuals in the community in relation to perceived drug offences," she said.
Mr Kelly, 35, was sitting in the passenger seat of the car and 46-year-old Mr McNally was driving when they were stopped and arrested.
A defence solicitor told the court the pair had denied any knowledge of the gun during police interview.
He said his clients claimed the document was nothing more than a scribble on a "scrap of paper" which could not be dated.
District Judge Harry McKibbin said he was "not prepared to take the chance" of releasing them.
They were both remanded in custody to appear again on 28 September.