Arvalee Special School fire: search for new premises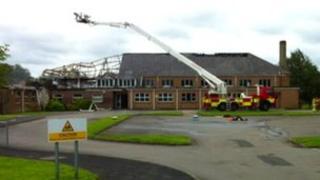 The principal of a County Tyrone school destroyed in a suspicious fire has begun the search for alternative premises.
Firefighters were called to the blaze at Arvalee Special School in Omagh on Friday night.
One hundred and three pupils had been due to return to the school on Monday morning.
Principal Johnathan Gray said staff and pupils were devastated by what had happened.
"Every teacher in the land will understand this," he said.
"The planning was in, the books were in, the requisitions were in, all the IT equipment had been put in. Everything that was ready to go is now gone.
"It was an attack against the children or our school, the children of Omagh, some of the most vulnerable people in our community.
"I can't get inside their head (the perpetrator) or understand it."
Karen Connolly's son Liam has been a pupil at the school for eight years.
"We've shown him photographs and he looked at the photographs and he keeps looking at them and he keeps going back trying to look at them," she said.
"He handed me his schedules and he made me take school off his schedules.
"This morning when other children were getting ready to go to school there wasn't school for him."
Another parent, Gordon Noble, said: "My daughter was planning ahead and actually had her bag packed on Thursday evening.
"And even today she headed off to my sister's where she's being cared for today with her schoolbag and things with her - she doesn't comprehend why the school's not actually there for her."
Retirement postponed
The school's caretaker Ronnie Harkness was due to retire next week after 22 years at the school, however his plans have also been thrown into turmoil.
"I'm due to retire on 14 September but it doesn't seem like it now after the meeting this morning.
"The board has asked me to stay on for another while."
Safety fears
The fire destroyed about 75% of the building and there are fears for the safety of the remaining structure on Deverney Road.
Police have confirmed they are treating the fire as suspicious and a specialist forensic team has been examining the scene.
Some of the school's pupils arrived at the gates with their families on Saturday morning, and many were visibly upset by the damage to the building.
Gordon Noble's 17-year-old daughter attended the school for 12 years and was looking forward to starting the new term.
"My daughter has autism and some learning problems and has great difficulty comprehending why things like this happen," he said.
"She was planning ahead and actually had her school bag packed on Thursday evening and even today she headed off to my sister's with her school things."
The school opened in September 2004, after the amalgamation of Heatherbank School and Cranny School.
It specialises in working with pupils aged three to 19 years of age who have moderate and severe learning difficulties.