Man arrested following George Gray murder dies in police custody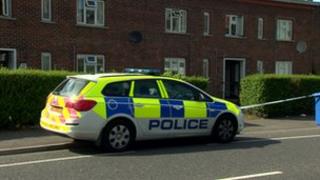 A man who was arrested in connection with the murder of George Gray in east Belfast has died in police custody.
The 34-year-old, who was arrested on Saturday, died at Musgrave PSNI station on Tuesday morning.
He was one of three people who were being questioned about the murder of Mr Gray, whose body was found at his home on the Cregagh Road on Friday evening.
The Police Ombudsman's Office said it has started an investigation into the man's sudden death.
A 29-year-old man, who was also arrested on Saturday morning, and 62-year-old woman who was arrested on Monday afternoon, both remain in police custody.
At the weekend, detectives investigating Mr Gray's murder said the 52 year old had been the victim of a "vicious assault".
The father of three was found dead by a close friend at about 17:30 BST on Friday.