Man jailed for seven years for killing best friend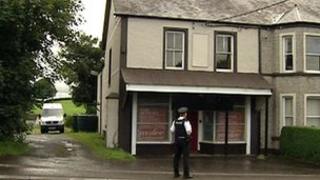 A County Antrim man has been jailed for at least seven years for killing his best friend.
Leon Robert Paul Johnston, from Ballydugennan Villas, Toomebridge, stabbed Michael McLaughlin, 24, four times in his Hillhead Road flat near Castledawson.
In July the court heard that Johnston was so drunk he could not remember the stabbing on 8 August, 2010.
Mr McLaughlin's mother said the sentence was an "insult".
At one stage she also apologised to trial judge Mr Justice McLaughlin for her emotional outburst.
The judge told 26-year-old Johnston that while he was being given seven years for the manslaughter of his childhood friend, it was an indeterminate sentence, and he would only be freed, when and if it was deemed safe to do so.
Johnston had been accused of murder, but the charge was reduced to one of manslaughter after the prosecution accepted that he was suffering from an "abnormality of the mind" at the time.
On Tuesday, Mr Justice McLaughlin said that both defence and prosecution psychiatrists agreed that Johnston had suffered from a recognised mental condition, which substantially impaired his ability to exercise any control over his actions following four days of "drinking to apparent oblivion".
The court had heard that the day before the stabbing, both friends, along with others had spent the day drinking together.
Later that night, when Mr McLaughlin returned home with his girlfriend, they found Johnston sleeping in the front room. When he awoke he was "deeply intoxicated and rambling incoherently and also exhibited signs of injury".
Mr Justice McLaughlin said that initially there was one confrontation between the friends about how Johnston had got into the flat.
However, during a second altercation, "the defendant was seen to walk into the kitchen and return with a knife in his right hand".
"There was much shouting, screaming, squealing and attempts made to intervene. The deceased, however, was seriously wounded, collapsed onto his knees and blood was observed gushing from a knife wound to his chest," said the judge.
The first three wounds to the right side of the neck, scalp and arm, while severe, were not life threatening. It was the fourth stab wound which killed Mr McLaughlin.
Johnston later told police: "It was me... I did it ... arrest me".
A defence solicitor had told the court that a "deeply remorseful" Johnston had led a troubled life.
On Tuesday, Mr Justice McLaughlin said it was clear from all the evidence and medical reports that Johnston's offending was "rooted in his gross abuse of alcohol and drugs".
The judge added that his abstinence since his arrest may well have improved Johnston's own self-esteem and "it has also given him a greater insight, and I have no doubt brought home to him, with considerable force, what he has done.
"I am satisfied he is also well aware of the consequences for the deceased, the deceased's family and friends and those who knew him."