Cigarettes seized at Belfast docks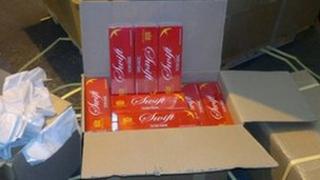 More than one million illicit cigarettes have been seized at Belfast docks by UK Border Force officials.
The cigarettes were found on Monday in a shipping container that had arrived from the United Arab Emirates via Rotterdam.
Officers found the cigarettes packed in 140 cardboard boxes whose contents were marked as being plastic bags for a supermarket.
The boxes were destined for a business address in Northern Ireland.
The smuggling plot was an attempt to evade about £250,000 in duty, the UK Border Force said.
Spokesman John Spence said: "Anyone who smuggles tobacco for commercial gain is effectively stealing from the public purse and from law-abiding taxpayers.
"The money from this kind of smuggling is often recycled into other forms of organised crime."