Trading room opens at Queen's University management school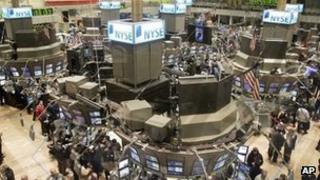 Students at Queen's University Belfast hoping to break into the high pressure world of Wall Street will have a chance to practise their trading skills at a new hi-tech facility.
The financial trading room at the university's management school will let students practise buying and selling stocks and shares without the risk of making expensive mistakes.
It lets prospective traders practise dealing in real-time equities, bonds, foreign exchange and derivative instruments.
Students have access to 12 trading stations with information tickers, televisions showing live markets coverage and financial software for a range of tasks.
Professor Donal McKillop said the trading room would be integrated into some of the financial modules being taught at Queen's.
"As students move through their degree programmes, there will be bespoke modules on financial trading incorporated into their courses," he said.
"We hope to develop a new postgraduate programme in computational finance where students blend their computer and financial knowledge, and this course will mostly be taught in the trading room."
The project has been funded by Newry-based firm First Derivatives, which makes financial analysis software used by investment banks and stockbrokers all over the world, an supported by Invest NI.
Ben Farmer, a final-year actuarial student, said he hoped it would be a great help at the outset of his career.
"To be able to use this stuff while we're still at university, so we can take it out into the workplace gives us a head start over other graduates," he said.
"It's competitive in the job market these days, so to have a resource like this is superb."