University of Ulster plans leave future in 'danger'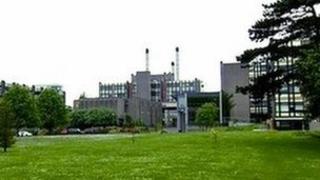 Staff changes at the University of Ulster are putting the university's future in danger, according to a lecturer's union.
The University and Colleges Union said it had originally co-operated with a major restructuring to cut up to 200 jobs.
However, it said it was now concerned about how the university was carrying out its plans.
The university said it was considering its response.
In a letter to assembly members, the union said there had been "little meaningful consultation" and it was "in the dark" about the university's financial situation.
It said cuts and changes were leaving staff "demoralised and demotivated" and it wants politicians to intervene.
The letter pointed out that it had engaged with the restructuring process being carried out by the University in response to the cut in funding.
Dispute
However, it said that it had issued formal notification of an industrial dispute in April, after it "failed to gain assurances" on the time scale for implementing staff cuts and that budget cuts would not mean downgrading of staff.
The dispute is still on-going.
The letter states: "More recently UCU has grown increasingly alarmed that there appears to be no overall plan for how the restructuring is being conducted across the university.
"As a result, there is no vision for what kind of institution the university is now or will become after the restructuring, and no strategy as to how it will maintain its relative strengths."
More than 800 academics and academic-related staff are members of the UCU at the University of Ulster.
The University of Ulster said: "Public support has been reduced by £10.5m per year following the decision of the NI Executive last year to reduce funding to the HE sector in Northern Ireland.
"As with other organisations in receipt of public funds - not just in higher education - budget cuts of this magnitude cannot be made without organisational restructuring and reductions in staff costs.
"The university has now completed restructuring in the majority of its faculties/departments. A small number of areas are nearing the completion of their respective restructuring exercises.
"Currently the university is recruiting in a number of key strategic areas in line with its corporate plan."
The Minister for Employment and Learning Stephen Farry said universities make their own decisions about how to spend their budget but he expected all of them to engage with all relevant stakeholders on their savings plans.
"The council and senior management of the University are responsible for the management of its affairs and future strategic direction," he said.
"As with any employer, I would expect the university to engage with all relevant stakeholders in taking forward their savings plans."