Metro Inns buys Belfast's Lansdowne Hotel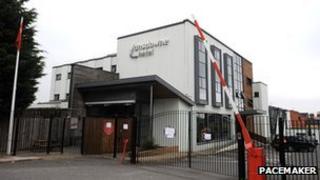 The Lansdowne Hotel in north Belfast, which went into administration almost four months ago, has been bought by the UK hotel chain, Metro Inns.
The 25-bedroom hotel on the Antrim Road closed suddenly in May with the loss of about 30 jobs.
At the time, customers who had had paid deposits to book functions at the Lansdowne said they had received no warning the business was in trouble.
Metro Inns was formed in 2006 and owns eight other hotels in Great Britain.
The company's headquarters are based in Newcastle upon Tyne and its other hotels are located in Gloucester, Derby, Manchester, Liverpool, Doncaster, Teesside, Newcastle and Falkirk.
In a statement, the company said: "Metro Inns hope to re-ignite the wonderful reputation this famous hotel enjoys and by engaging with the local community and its staff we hope to deliver a first class service to the people of Belfast and beyond."
Short notice
The firm's operations director, Jackie Kirkpatrick, welcomed the latest addition to Metro Inn's "rapidly expanding" portfolio and said the decision to invest in Northern Ireland was "a progressive step" in establishing its brand.
When the hotel closed in May, a significant number of people had booked weddings, engagement parties and First Holy Communion celebrations which had to be rescheduled at short notice.
Prior to the sale, the Lansdowne Hotel formed part of the Welcome Group, a family owned chain of hotels and Chinese restaurants .
The Welcome Group was established in Northern Ireland in 1973 and acquired the Landowne in 2001.