Maghaberry dog fire suspects released on bail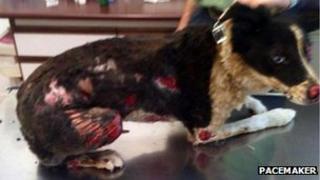 Two men arrested over an attack on a dog in Maghaberry have been released on police bail pending further inquiries.
A three-year-old collie dog, called Cody, suffered serious injuries after it was doused with flammable liquid and set alight 10 days ago.
The PSNI had appealed for information about two men who were seen with the dog on Trummery Lane, close to a quarry at about 10:00 BST on 26 August.
Two men, both aged 21, were arrested on Tuesday.