Duke of York at Northern Ireland apprentices event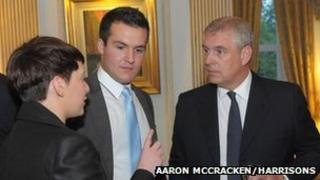 The Duke of York was guest of honour at a dinner on Wednesday evening recognising the role of apprenticeships in the Northern Ireland economy.
Prince Andrew met with some of the young apprentices who have taken part in the scheme.
Also present were guests from a wide range of companies involved in the ApprenticeshipsNI programme.
There are currently over 11,000 apprentices undertaking training as part of the programme.
It is funded by the Department of Employment and Learning (DEL).
There are currently more than 100 apprenticeships to chose from which can take between two to four years to complete, depending on the level of study.
The dinner, at Hillsborough Castle, was hosted by the Minister of State for Northern Ireland, Mike Penning MP.