Duke of York tours County Antrim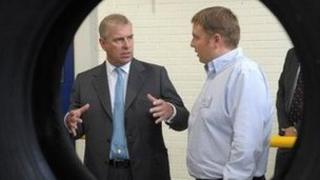 The Duke of York has been touring County Antrim on Thursday.
Prince Andrew visited IT company Northgate in Newtownabbey where he met with staff and apprentices.
He then moved on to Ballymena, where he met students at the Northern Regional College. He also paid a visit to the nearby Michelin factory.
Prince Andrew's final engagement was at a garden party in Hillsborough on Thursday afternoon.
The garden party was hosted by Theresa Villiers, the secretary of state for Northern Ireland.
The Duke of York met about 2,500 invited guests from across Northern Ireland society.
On Wednesday night, Prince Andrew was guest of honour at a dinner at the castle recognising the role of apprenticeships in the Northern Ireland economy.