Northern Ireland Olympic Torch policing cost explained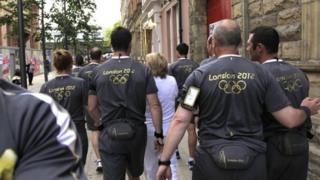 The PSNI has explained why it cost more to police the Olympic torch in Northern Ireland than in London.
Just over £1m was spent by the PSNI on the torch run in June.
The Metropolitan Police spent £250,000 less, even though it was in London for an extra two days.
A senior police officer has said the expense in Northern Ireland was down to the torch run falling over two public holidays and a larger geographical area.
Assistant Chief Constable Alastair Finlay said: "Although it ran 212 miles in London in Northern Ireland it covered just under 600 miles over the five days it was here.
"Quite a bit of that was done in convoy, on road, it went to every council area.
"The whole different spectrum of that and the different approach of that meant the policing operation was significantly different."