James Cameron in Belfast for Titanic film exhibition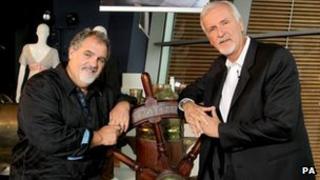 Titanic film director James Cameron has arrived in Belfast to launch a new exhibition on the ship.
Mr Cameron opened an exhibition dedicated to his film about the vessel at the Titanic Belfast visitor centre on Friday.
The Belfast-built ship went down on 15 April 1912, leaving more than 1,500 people dead.
Mr Cameron hailed the Belfast men who worked to stop the ship rolling over, saving other passengers.
"I believe firmly that they are the unsung heroes of Titanic that kept that ship upright, the stately image that we all think of when we think of Titanic sinking," he said.
"It is important for us to continue to look back at history.
"There are still lessons to be learned, there were heroes on board the ship that we did not even realise how important they were... and they were Belfast men."
Mr Cameron's film Titanic won 11 Oscars after its original release in 1997.
The exhibition about the film includes props and costumes highlighted in some of its most memorable scenes.
It also features some items from Mr Cameron's personal collection including the ship's wheel and other technical equipment.
Costumes have been borrowed from 20th Century Fox. These include the originals worn by the film's stars Leonardo DiCaprio and Kate Winslet in their final scenes.