Sir Edward Carson's rallying cry re-enacted in Enniskillen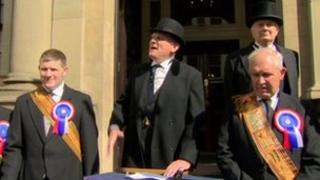 A re-enactment of Sir Edward Carson's rallying cry in Enniskillen in 1912 has taken place in the town.
Actors and Orangemen played the parts of the unionists who welcomed their leader to Enniskillen 100 years ago.
He was there to galvanise unionist support for the signing of the Ulster Covenant.
At the end of this month a parade marking the signing of the covenant will take place in Belfast.
Gary Wilson, the chairman of the Covenant Centenary Committee, organised the event on Saturday.
"On this day 100 years ago there were 40,000 people reviewed by Carson here in Enniskillen so it was so important for us to re-enact and commemorate the brave deeds of our forefathers," he said.