Cancer con was well researched say victims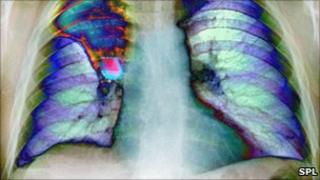 A woman and her partner who swindled the family of a dying man out of nearly £5,000 had meticulously researched their plan, it has been claimed.
Margaret Hood, 53, from Belfast - who claimed she also had a terminal illness - and her partner, Henry Fenton, 57, from Lisburn were given a suspended jail term on Friday.
They told the Toman family from west Belfast they needed cash for life-saving treatment in America but spent it on holidays.
Ciaran Toman said it had been a "well-constructed con".
He explained that Fenton - whom he had met through employment some time ago - showed up with his partner, Hood.
In 2006, a few weeks after Mr Toman's father had been diagnosed with lung cancer, Hood also claimed to have a terminal illness.
She went on to befriend Mr Toman's mother while his father was being treated for the disease.
Mr Toman said Hood also began to "attend" the cancer centre in Belfast, claiming to be getting treatment and chatting effortlessly to the medical staff.
He said, on one occasion, Hood even appeared with a bandage on her neck as if she had been receiving drugs.
"I don't believe it was spontaneous lying" he said.
Medication
"It was perfectly set up, it was very thoroughly researched. It looked very professional. Every single piece of it was lies."
Hood later told the family she had only eight weeks to live.
She then claimed that she had an opportunity of getting pioneering treatment in San Franciso, but had no money to get there.
The west Belfast family gave her thousands after she said she would take their father's medical notes with her.
"She played on the emotions, played on our vulnerability. It was the last thing we could do to try to save our father's life," said Mr Toman.
However, the family subsequently discovered Hood and Fenton had been on holidays. She had also been interfering with their father's medication.
Mr Toman died in December 2006.
On Friday, in court, the judge said the pair deserved a jail sentence.
However, he decided to suspend their 18-month prison terms for three years because Hood is suffering from a rare delusional psychiatric condition.
Mr Toman said: "I don't believe a normal person could carry out the depth of deception that was carried out on us."