Northern Ireland house prices fall at slower rate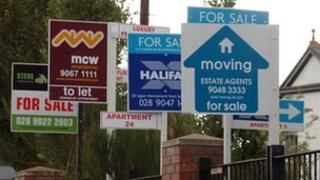 Northern Ireland house prices have continued to fall, but at a slower rate since April 2012.
The latest survey by the Royal Institution of Chartered Surveyors also predicts that prices will stay the same for the next quarter.
The RICS said there was increasing evidence that the uneven pattern across different parts of Northern Ireland has been continuing.
It said Greater Belfast fared better than many other parts.
"Overall, the big house price falls are certainly behind us, particularly at the lower end of the market, and this is most apparent in the Greater Belfast area," spokesman Tom McClelland said.
"But with economic conditions, repossessions and other factors, the average price in Northern Ireland will likely move lower in the months ahead, with price changes likely to be much more apparent in some areas than others."