Goat-herders sought for Howth Head project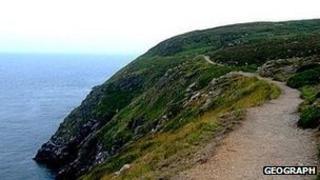 A county council in Dublin has issued an unusual appeal for help.
Fingal County Council wants anyone who wants to try their hand at goat-herding to contact them as part of a conservation project.
Goats have been released on Howth Head just outside Dublin as part of an experiment to conserve heathland.
The plan is that the goats' grazing will stop the heathland growing out of control and keep out species such as birch trees, bracken and bramble.
Three goats - two nannies and a kid - have been brought up from the council's traditional farm and released onto the land.
However, they need some looking after.
"We're looking for volunteer goat-herders. We've had a number of people already sign up," the council's biodiversity officer Deborah Tiernan said.
"What people will do is they'll sign up for maybe one day a week, or one day a month, or whatever they can, and we've a lot of walkers up there so people will say I'll be up there at 8 o'clock or whatever.
"We've drawn up a checklist for them and they'll come up and see if the three goats are still there, do they look happy, are they eating and then what are they eating."
The council will provide training and advise people on things like how to tell if a goat is happy.
"The three goats we have, they're a breed called golden Guernsey and they're almost like dogs - so if they're happy their tails will be up in the air," Ms Tiernan said.
One reason for the goats to be happy is that they will not spend the worst of the winter on the headland, which juts out into Dublin Bay.
The goats are returning to their farm at the end of October, to return to the headland in February.
An ecologist will be on the site to see if the goats eat what they're supposed to and whether similar projects can be used to protect other heathlands.