Salmato Djalo hid 30 packets of drugs in her body, Belfast court is told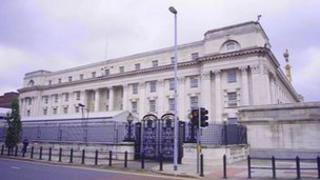 A woman hid up to 30 packages of cocaine and heroin inside her body in an attempt to smuggle the drugs into Northern Ireland, a court has heard.
Salmato Djalo, whose address was given as Glendinning Way, in Portadown, is charged with importing Class A drugs.
Prosecutors told Belfast High Court the accused had £45,000 worth of the banned substances "concealed internally" when she arrived on a flight from Portugal.
The 31 year old was searched at Belfast International Airport last September.
Crown counsel Nicola Auret said Ms Djalo was found to have 18 small packages of suspected cocaine and one of heroin hidden within her body.
"She was taken to hospital after arrest and produced a further 11 packages, making a total of 30," the prosecutor told the court.
Daughter
Tests have confirmed the packages contained a total of 300g of the Class A drugs in question, which would have an estimated street value of £45,000.
According to the prosecution, Ms Djalo has admitted knowing what was in the packages, and to her role as a "drugs mule".
The accused, who is originally from Guinea-Bissau, was previously granted bail, but had made an application to the High Court on Tuesday, seeking an order for the return of her three-year-old daughter's identity documents from UK Borders Agency.
A defence barrister said his client had made the request so that the child could travel back to Portugal with her grandmother.
However, the prosecution opposed the application, suggesting that Ms Djalo should instead go into custody to begin the prison sentence expected, following a confirmed guilty plea.
Absconded
Ms Auret pointed out that would enable repatriation of the child without any fear of the accused fleeing.
The court was also told that Ms Djalo's partner, from whom she allegedly received the drugs, has absconded since being granted bail in the Republic of Ireland.
Mr Justice Treacy refused to grant her application due to concerns she may then leave Northern Ireland.
He said: "In light of the imminence of the trial process and the incentive to take the same course her partner took there would be a real risk in this case.
"I'm not prepared to take that risk", the judge said.