Willie Walsh at NI air links Westminster hearing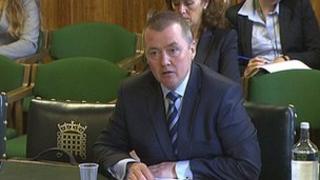 Airlines are united in opposition to the "unfair" air passenger duty, the chairman of British Airways' parent company has said.
IAG head Willie Walsh was addressing the Northern Ireland Affairs Committee, which is taking evidence in its inquiry into forming an air transport strategy.
Mr Walsh told MPs the tax was "distorting competition".
He said four airline heads had written to Chancellor George Osborne but had not received a reply.
Mr Walsh also said he wanted to send his best wishes to former Transport Minister Theresa Villers in her new role as Northern Ireland secretary.
Commitment
He dubbed her the "anti-aviation minister" for her opposition to additional runway capacity at Heathrow.
"I would hope the new secretary of state would now appreciate the value of aviation on her regular visits between London and Belfast," he said.
Mr Walsh reiterated his firm's commitment to the route between Belfast and Heathrow.
British Airways took over the Belfast City Airport route from BMI, after IAG bought the ailing airline in April from Lufthansa.
In 2001, BA pulled out of its Belfast route, but Mr Walsh said he was "delighted" to see BA back in the city.
"We believe this is a destination that can be a profitable part of the BA global network," he said.
Mr Walsh said there was "no question" the route would have been lost if International Airlines Group (IAG) had not acquired BMI.
"I regret the job losses, but BMI's closure was inevitable," he said.
Easyjet's UK director, Paul Simmons, echoed Mr Walsh's remarks about APD in his appearance at the Westminster committee, saying it was "especially unfair for the people of Northern Ireland".
He said it remained "one of the most significant barriers to growth in Northern Ireland, with local people being disadvantaged when they fly to UK destinations such as London, Manchester and Scotland as they are hit twice with tax".
"Like British Airways, Ryanair and Virgin Atlantic, we continue to call on the government to publish an independent study of the economic effects of APD," he said.
"We are confident such a study would show that APD's damage to economic activity outweighs the revenue obtained."
Ryanair's Kate Sherry said the burden of APD was curtailing the airline's expansion in Northern Ireland.
"APD prohibits large scale expansion into Northern Ireland to the detriment of industry and tourism connections," she said.
"However, we continue our dialogue with the airports."
Ryanair flies from the City of Derry Airport, but withdrew its George Best Belfast City Airport routes in 2010 after a row over delays to a proposed runway extension.