Northern Ireland unemployment figures stand at 8.2%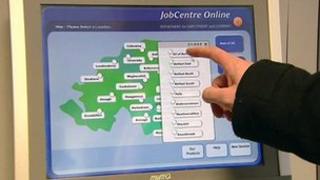 Unemployment in Northern Ireland has increased, according to the latest figures released on Wednesday.
It is estimated that the unemployment rate reached 8.2% for the previous three months ending in July - which means the NI jobless level has moved above the UK average.
The number of people claiming unemployment related benefits stood at 63,100 in August.
This was an increase of 100 on the previous month.
The latest monthly increase in Northern Ireland was in contrast to an overall decrease across the UK.
The NI rate of unemployment at 8.2% is lower than the European Union and the Republic of Ireland where unemployment is running at almost 15%.
The seasonally adjusted number of working age people that were economically inactive fell by 8,000 over the period, while the working age economic inactivity rate was 26.9%.
The Northern Ireland inactivity rate (26.9%) remained above the UK average rate (22.4%) and was the highest rate among the 12 UK regions.
Commenting on the figures, Enterprise Minister Arlene Foster said: "The rise in unemployment is disappointing but highlights the fact that the Northern Ireland economy is still impacted by the current recession. Output at UK level is falling and growth in the global economy is at disappointing levels.
"The reduction of 8,000 over the quarter of those classed as being economically inactive is also to be welcomed."
Basil McCrea criticised the executive for not acting quickly enough on unemployment.
"Northern Ireland's unemployment rate for 18 to 24-year-olds is at a staggering 23.5%, well above the UK's average rate of 19.3%," he said.
"The Employment Minister Stephen Farry needs to be addressing these serious concerns; this is not the type of trend we should be seeing.
"Youth unemployment is particularly worrying, especially as the minister and his department have brought out strategies and schemes to help young people find employment but of the 8,760 claimants who joined the count in August 2012, 40.9% were under 25."
Dr Esmond Birnie, PricewaterhouseCooper's (PwC) chief economist in Northern Ireland said that, despite unemployment creeping up, some new employment was being created.
"In the last quarter Northern Ireland created around 2,000 new employee jobs, mostly in the private sector, as the public sector declined by 620 but the private grew by 2,710," he said.
"There is some evidence that manufacturers and exporters are beginning to come to terms with the new normal of sluggish demand and Euro zone uncertainty.
"To encourage such this trend, we need more businesses that innovate and export and more companies trading in local markets to look further afield."