Meeting in Dublin on cross-border roads later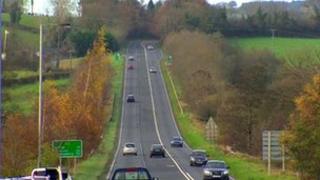 A number of local authority representatives from Northern Ireland will visit Dublin's Leinster House later to discuss the upgrading of cross-border national roads.
The meeting is being held by the Dail's Joint Committee on the Implementation of the Good Friday Agreement.
The upgrade of the A5 Aughnacloy to Londonderry will feature in talks.
A number of other road schemes will also be under discussion.
These include the N2 Clontibret to Northern Ireland border scheme, M1 Drynam to Lissenhall Widening Scheme and the N13/N14 Junction at Manorcunningham.
The chairman of the committee, Joe McHugh, said the meeting was "a timely opportunity to engage with a wide range of opinion in the local authority areas with most to gain from the proposed projects".
He said: "Our committee, acknowledging the current fiscal constraints facing the state, are encouraged that the projects will remain priorities as the finances of the state improve.
"An upgrade of the A5 road is imperative to the further development of the northwest."
The Northern Ireland Executive has allocated £330m to develop two sections of the A5, a project which the Irish government had previously planned to support with £400m of funding.
These sections will be from Derry to north of Strabane, and south of Omagh to Ballygawley in County Tyrone.
The Department for Regional Development has said construction on both stretches is expected to begin this autumn.
However, a department spokesperson said it has been served with "notice of an Originating Summons on behalf of the Alternative A5 Alliance seeking a legal review on the decision to proceed with the A5 WTC scheme".
"The department is taking legal advice on its response to this application and therefore cannot make any further comment at this time," it added.
Last November the Irish government announced its withdrawal of £400m (470m euros) in funding to upgrade the 53-mile route from the border between Northern Ireland and the Irish Republic at Aughnacloy, County Tyrone to Derry.
The Irish Prime Minister Enda Kenny later confirmed that £42m (50m euros) would be made available to fund the project, comprising 25m euros in 2015 and 25m euros in 2016.