Man charged with robbery on Ormeau Road in Belfast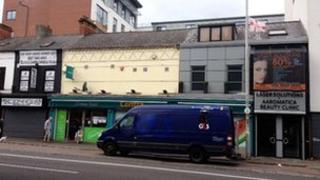 A man has appeared in court charged with stealing money from a cash-in-transit van in south Belfast.
Patrick Joseph McMahon, 34, from Antrim Close, Belfast, is accused taking a cash box containing £25,000 off a security guard outside a shop on the Ormeau Road on Sunday.
Appearing with him at Belfast Magistrates' Court was Tracy McMahon, 27, of Torrens Avenue, Belfast.
She is charged with assisting offenders.
Patrick McMahon faces two further counts of handling stolen goods, namely money and a car.
He did not seek bail and was remanded in custody to appear by video link on 10 October.
Tracy McMahon was released on continuing bail to appear again in court on the same date.