Northern Ireland Executive ministers hold economic forum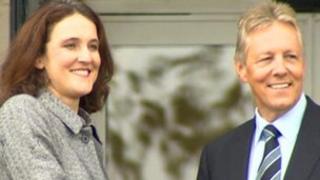 Enterprise Minister Arlene Foster has told her executive colleagues that more jobs will be coming to Northern Ireland before Christmas.
She made the announcement during what was described as a mini economic forum at Stormont.
It comes on the same day as engineering firm FG Wilson announced 760 job losses in Northern Ireland.
First Minister Peter Robinson and a number of other ministers with economic responsibility are taking part.
Among the issues being discussed are the latest increase in unemployment and how the executive should respond.
The jobless rate went up to 8.2% for the three months ending in July, which is higher than the UK average.
Ms Foster said there would be a special meeting at the end of October to deal solely with the economy.
Issues that will be discussed include how ministers can improve the environment for business, taking into account things like planning, car parking charges in town centres and growth funding.
Trying times
Mr Robinson said he had asked executive ministers to come up with proposals "between now and then as to steps that can be taken to have an immediate impact".
"I asked the Finance Minister Sammy Wilson to look at matters relating to rating policy, as the retail sector is facing very difficult circumstances," he said.
"We're looking to see if any immediate or temporary assistance can be given for retailers in rating policy.
"I asked Regional Development Minister Danny Kennedy to look at issues in relation to parking which would again help retailers.
"Environment minister Alex Attwood is going to come forward with proposals from his department - clearly planning has an important role in terms of building up our economy because it gives the permission to allow construction and other things to happen.
"Arlene Foster is going to look at the loans fund that we opened.
"We provided £50m for loans for those who are having difficulty securing funds from the banks and that continues to be a major problem."
Employment Minister Stephen Farry said he acknowledged there were tough times ahead.
"Our economy is going through a difficult time, other parts of the world are the same," he said.
"The challenge for us is to manage through the difficult times and ensure we plan ahead.
Corporation tax
"We have very, very good projections for growth in our economy over the years to come but we have to get through this crisis."
After the economic meeting, Mr Robinson met the Secretary of State Theresa Villiers and raised the issue of devolving corporation tax to the Northern Ireland executive.
"I'm happy to say that the new secretary of state is very positive on that issue," he said.
"She is of course recognises that there are lot of things to be worked out in terms of the cost to the block grant and how it will be carried out."
The first minister said he wanted the issue dealt with "once and for all".
"This is the one lever that would make all the difference," he added.
"I will certainly be speaking to both the prime minister and chancellor before any firm decisions get taken in cabinet."