Judges rule Kieran Joseph Kavanagh given unduly lenient sentence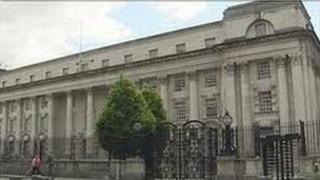 The Court of Appeal has ruled that a man who bit off part of a man's ear received an unduly lenient sentence.
Kieran Joseph Kavanagh, 23, pleaded guilty to wounding with intent to cause grievous bodily harm during a family feud-related attack in west Belfast in April 2008.
He was given two years in prison, to be followed by 18 months probation.
Judges on Thursday declined a prosecution bid to increase Kavanagh's sentence due to double jeopardy issues.
The court heard Kavanagh had been drinking heavily and was with others when he attacked the man, seen as being on "the other side" in a dispute in the Ballymurphy area at the time.
The victim, then aged 23, has since died in circumstances unconnected with the incident.
During the assault in a takeaway on the Glen Road he was hit about the head and body by different people, including Kavanagh, before someone took hold of his ear.
Setting out the facts, Lord Chief Justice Sir Declan Morgan said: "He described hearing his ear ripping and feeling sudden pain.
"Blood was dripping from the ear. This attack was carried out by the offender.
Deformity
"The injured party jumped in behind the counter in the premises and was able to see part of his ear on the floor of the shop."
He lost part of his right ear, and was left feeling embarrassed and paranoid at people looking at him because of his deformity.
Following his trial at Belfast Crown Court, Kavanagh was sentenced in September 2011.
The director of Public Prosecutions appealed the sentence, citing factors including the use of teeth as a weapon in the attack.
Ruling on the case, Sir Declan, sitting with Lord Justice Coghlin and Mr Justice Stephens, held that the appropriate sentence should have been five years.
"It follows that the determinate sentence of three years and six months imposed by the learned Recorder was exceptionally lenient and, in our view, can properly be described as unduly lenient," he said.
"We must take into account the double jeopardy principle which means that at most the offender would serve a small number of extra months in custody.
"In those circumstances we do not consider that this is a case in which we should interfere with the sentence imposed by the Recorder."