Stephen McCrea sentenced over Omagh nurse stabbing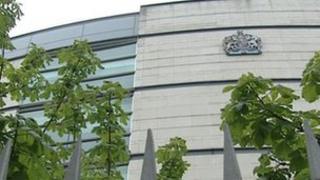 A man convicted of stabbing a young woman in the head in Omagh, County Tyrone, has been sentenced to four and half years in prison.
Stephen McCrea, 32, of Riverview Park, Omagh, was accused of attempting to murder nurse Tracy Monteith on 8 August, 2010.
The charge was not proceeded with when he admitted maliciously wounding her.
On completion of his sentence, the Parole Commissioners will decide when it will be safe to release him.
Ms Monteith, who was discovered on her own doorstep with a kitchen knife sticking out of her head, attended the sentencing at Belfast's Laganside Court. She was too upset to comment.
Prosecution lawyer Frank O'Donaghue had told an earlier hearing of the County Tyrone court, sitting in Belfast, that Ms Monteith and her partner had just moved into their Omagh home.
He said they were having a house-warming party for close family and friends when it was believed McCrea tried to barge his way in.
At Friday's sitting, Judge David McFarland said that while McCrea had no significant record for violence, "his actions on this day indicate a man who was unable to cope with the most reasonable request to leave the party as a stranger and uninvited guest".
He said McCrea then dealt "with this rejection by arming himself with a knife either to undertake a revenge attack or to use it to force entry, and then returning to inflict a savage blow to a defenceless lady posing no risk to him".
Judge McFarland said that although Ms Monteith had made a reasonable recovery, "even now, two years after the incident she continues to suffer both physically and mentally... but permanent scarring from the injury and the surgery will be a constant reminder to her of this horrific incident".
Defence lawyer Brian McCartney said that at the time McCrea was "at the height of his battle with drugs", but he had since got over "the hump and is on the way down".
He said McCrea was not a violent man and accepted full responsibility for what he did.