Ken Cleland, Maze development board appointee, faces legal action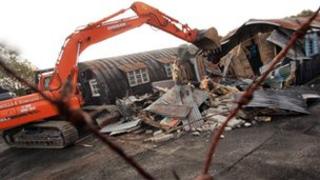 A businessman appointed to the Maze development board is facing legal action to ban him from acting as a company director, the BBC has learned.
Ken Cleland was appointed to the board of the Maze Long Kesh Development Corporation last week by the first and deputy first minister's department.
The enterprise department is seeking to disqualify him as a company director.
Former printing firm, Graham and Heslip, was placed into administration in 2009 when Mr Cleland was chairman.
It is understood that during the selection process, Mr Cleland made officials aware that he was facing the proceedings which will be "robustly" contested.
The matter is due before the High Court in Belfast later this month.
When a company fails, the insolvency practitioner dealing with it has to send a report to the Department of Enterprise Trade and Investment (DETI) outlining the conduct of recent directors.
The department must then decide if it is in the public interest to seek a disqualification order.
It is a matter of civil rather than criminal law and so any application is adjudicated on by the High Court.
A spokesman for DETI said: "Graham and Heslip Ltd entered administration on 2 December 2009.
"Following the administrator's report, the department commenced disqualification proceedings. We understand these proceedings will be contested and it will be for the courts to determine how they are disposed of."
Conduct which can lead to disqualification ranges from failing to keep proper records, to in more serious cases, failing to pass on VAT to Revenue and Customs.
A spokesman for the Office of the First and Deputy First Minister (OFMDFM) would only say that none of those appointed to the Maze board had been disqualified as a company director and should circumstances change, the department would "re-consider the position".
The spokesman also said that advice from the Commissioner for Public Appointments was that, where there is no outcome to an ongoing process, the decision to appoint would not contravene what his office would regard as "good practice".
Maze board members receive up to £5,000 a year plus travel and subsistence expenses for their part-time work. The chairman receives £30,000 plus expenses.
When Graham and Heslip collapsed it owed its creditors more than £3m.
The firm was quickly bought out of administration by former senior employees of the firm in a so-called pre-pack deal.
However, the new firm also failed when suppliers refused to do business with it.
The Unite trade union alleged that Graham and Heslip had not followed proper redundancy procedures.
Mr Cleland's current main business venture is a property firm, Arborhill. It recently received planning permission to build a hotel in Lisburn.
Mr Cleland has been photographed alongside senior DUP members at social functions.