Police asked to revisit Rebecca McKeown evidence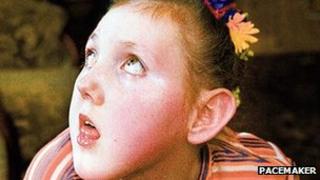 The chief constable has been asked by the director of public prosecutions to investigate evidence given in the Rebecca McKeown manslaughter trial.
Barra McGrory's move follows the collapse of the trial of an elderly couple accused of killing their severely disabled grand-daughter.
Sarah Johnston, 85, and John David Johnston, 89, were acquitted after the trial was halted in May.
The life-limited teenager died from pneumonia in hospital 11 years ago.
A Public Prosecution Service (PPS) spokesperson said: "Following a careful examination of the issues arising from the evidence of a key prosecution witness at the trial of David and Sarah Johnston, the Director of Public Prosecutions for Northern Ireland, Barra McGrory QC, in exercising his powers under section 35(5) of the Justice (Northern Ireland) Act 2002, has requested the Chief Constable to ascertain and provide information to him on the grounds that a criminal offence may have been committed."
In a brief statement, the PSNI said: "Police have received a letter from the PPS and will be initiating enquiries."
Rebecca, who was blind and epileptic, had a wide range of life-limiting medical conditions including spastic cerebral palsy and scoliosis of the spine. She suffered up to 30 seizures a day.
She could not walk, talk or eat for herself and required round the clock care.
During the trial, the prosecution claimed the 14-year-old developed pneumonia after being injured during a sexual assault while in her grandparents' care.
Mr and Mrs Johnston, Glengormley, County Antrim, denied manslaughter and child cruelty charges against Rebecca.
The trial was discontinued in May when the judge directed the jury to acquit the couple after the prosecution collapsed in the face of evidence that cast doubt on the cause of death.
Mr Justice McLaughlin directed the jury to find the couple not guilty and told them they were free to go.