Assembly motion calls for Irish government apology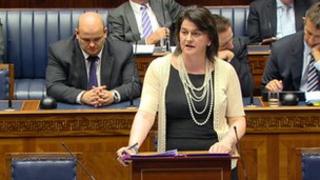 DUP minister Arlene Foster has said she will lead a delegation of victims to Dublin to press the Irish government on its failures during the Troubles.
Mrs Foster told the Northern Ireland Assembly on Monday night that she wants an acknowledgement from the Republic that it failed to secure the border.
She said the IRA had been able to "ethnically cleanse" the area.
A DUP motion called on the Irish government to apologise for its alleged role in the emergence of the IRA.
It was passed by 47 votes to 46.
During the debate, Mrs Foster said: "We do ask them (the Irish government) to acknowledge both their acts of commission in relation to collusion and their acts of omission in not seeking to secure the border of Ireland."
She said the apology "must have reference to and acknowledge the ethnic cleansing" which took place along the Irish border by the Provisional IRA.
The DUP's Gregory Campbell presented his party's motion and said the issue of dealing with the past was "fraught with difficulties".
However, Sinn Fein's Mitchel McLaughlin said unionists needed to "get real" over the history of Northern Ireland.
He suggested the DUP and others were in denial about the past and he accused Mr Campbell of being selective.
"I don't know any republican who would say that there wasn't fault on all sides," he said.
Ulster Unionist assembly member Danny Kennedy presented his party's amendment which noted "the apologies from the United Kingdom government in relation to the Bloody Sunday and Claudy bombing".
He said he supported the DUP motion.
He added that he had already asked Irish Prime Minister Enda Kenny to apologise on behalf "of his people for the security failings and the political failings of successive Irish governments, failings which may not have caused the atrocities such as Kingsmills, but failings which meant that little or nothing was done".
Last week, Mr Kenny told relatives of the 10 men killed in the 1976 Kingsmills massacre in County Armagh, he could not apologise for the IRA.
Stewart Dickson spoke on behalf of the Alliance Party's amendment. It called for Northern Ireland Secretary Theresa Villiers and her counterparts in the Irish government to convene talks between all political parties on the subject of dealing with the past.
"We should establish a process to allow us to examine very deep, hurtful and painful issues," he said.
Conall McDevitt of the SDLP described the motion as "premature" and that it was "not the way" to deal with the past.
TUV leader Jim Allister said "an apology could do with starting nearer to home".
The UUP's amendment was passed and the Alliance Party's fell.
Despite opposition from the SDLP and Sinn Fein, the amended motion was passed by 47 votes to 46.